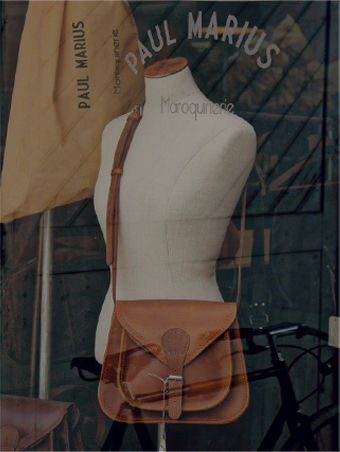 THE BEGINNINGS
It was in 2010, on the terrace of a café in Rouen, that Florent Poirier, a self-taught Norman, sketched the outline of his first creation... Inspiration came naturally to him, while observing passers-by with vintage-looking bags.
A creator at heart, and convinced of his idea, Florent decided to go for it. He wanted to break the codes and rethink forgotten retro leather goods.
ARTISANAL KNOW-HOW
It is in India, a leather producing country, that he makes 10 pieces of his iconic model "LeCartable". Despite a complicated start, Florent persevered and ended up discovering and exchanging with two Indian brothers, who would become his faithful partners.
The quality craftsmanship and unique know-how of their country, as well as their shared values and ambitions, opened up a whole new world of possibilities. The PAUL MARIUS adventure begins!
The enthusiasm is palpable, the PAUL MARIUS style takes shape and the range is enriched. The brand's character is asserted, with a constantly evolving creativity and a desire to challenge. Thanks to this Franco-Indian partnership, know-how became the key word: perfection of assemblies, creation of new leathers and colours.
A SUCCESS STORY
At first, the brand was distributed exclusively on the Internet. The first shop was opened in 2014 in Rouen... And it was a great success. This success is reflected today by over thirty boutiques located in France and Belgium, an international e-commerce site and a network of 550 multi-brand distributors.
A unique customer experience, a fair price all year round, unfailing quality and authenticity are the values that drive the PAUL MARIUS community every day.
PAUL MARIUS TODAY
Between limited editions, original and seasonal collections, PAUL MARIUS continually surprises and amazes: ever more creative and resolutely couture models, imagined and designed by the Bureau de Style.
Today, it is in a universe that is offbeat, against the current and always accessible that the brand is part of and continues to shake up the codes. Our history is written with 1,400 Indian craftsmen and 200 French employees. And because the adventure doesn't end here, PAUL MARIUS continues to travel, to create and to surprise, with a single goal: to seduce you.
... OUR STORY BECOMES YOUR STORY !