For more than 11 years, PAUL MARIUS has prolonged the life of its leather goods through the quality of its models, the work of its Customer Service, in perpetual search of your satisfaction, and the expert hands of its team of leather retouchers, always taking care of your PAUL MARIUS leather bags.
We are ever more attentive to consumer issues and strive to minimize our environmental impact.
So a question came to mind: What do we do with our leather scraps?
Did you know that? Our leather sneakers PM001 and PM002 are created from unused leather pieces from our maroquinerie.
It took two years to develop a sneaker that will be designed with leather scraps from our leather goods manufacturing. Reusing these small pieces of leather without much future became a real challenge for us.
PAUL MARIUS' COMMITMENT
Our commitment goes beyond creation, as we recover your PAUL MARIUS leather sneakers at the end of their life in order to recycle them.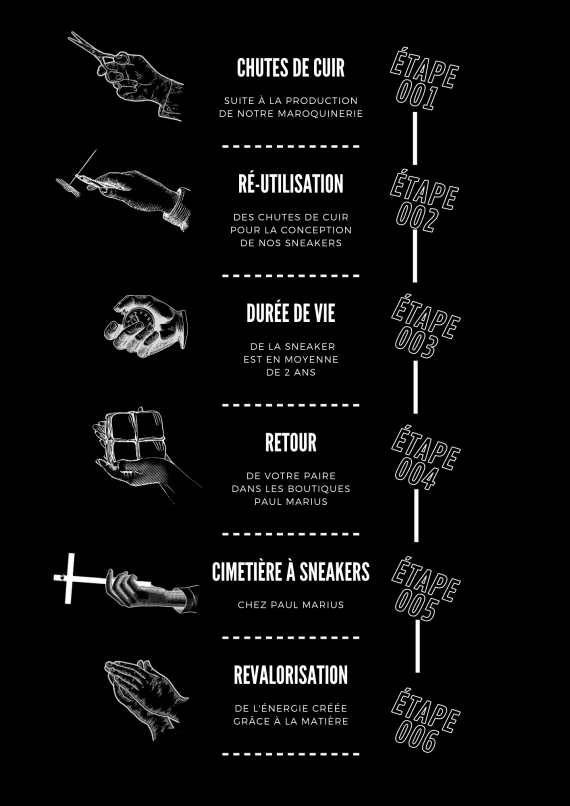 1. Upcycling: PAUL MARIUS is taking an eco-responsible turn by recovering our leather scraps, reducing our consumption of raw materials, our energy consumption and our impact on the environment
2. Revalorization: Thanks to our sneakers cemeteries, all of our boutiques are able to collect pairs of out-of-use PAUL MARIUS leather sneakers in order to supply them to our Normandy eco-partner and contribute to the creation of heat and electricity.
In addition to being a fashion accessory, our sneakers are also a real commitment to the planet!
Our models are declined in original and unique shades, that you will not find anywhere else...
Assume your style, far from the conformist sneakers seen and reviewed!
WHERE TO FIND OUR SNEAKERS
Find all our sneakers in PAUL MARIUS LAB boutiques as well as in our Sneakers Bars in Reims, Le Havre, Metz, Nancy, Caen, Le Mans, Orléans, Nantes, Tours, La Rochelle, Limoges, Bordeaux and Toulouse.
PAUL MARIUS LAB Rouen
31 place des Carmes, Rouen 76000
Monday: 1.00pm - 7.00pm
Tuesday to Friday: 10.30am - 7.00pm
Saturday: 10.00am - 7.00pm
PAUL MARIUS LAB Lille
6b rue de la Monnaie, 59000 Lille
Monday: 1.00pm - 7.00pm
Tuesday to Friday: 10.30am - 7.00pm
Saturday: 10.00am - 7.00pm